The information in this article applies to:
Security Explorer Version 8.1.x
Title
Scheduled backups are not found after upgrade from Security Explorer 7.x to 8.1.x
Problem Description 
After upgrading from Security Explorer version 7.x to version 8.1.x the scheduled backup job created in version 7 (figure 1) does not appear in the Backup Scheduled Task List of the new version, (figure 2).

Figure 1

Figure 2 
Cause
SXP (Security Explorer) v8.1 does not require SXP5, SXP6 or SXP7 to be uninstalled. It can be installed side-by-side with all of these previous applications; however the user's configuration files in previous versions are not imported during the installation. 
Resolution
The user's configuration files are stored under the user's profile:
Windows7/Server 2008= C:\Users\[user account]\AppData\Local\ScriptLogic Corporation\Security Explorer\[Security Explorer Version number]BackupSavedTasks (figure 3).
Windows XP/Server 2003 = C:\Documents and Settings\[user account]\Local Settings\Application Data\ScriptLogic Corporation\Security Explorer\[Security Explorer Version number]BackupSavedTasks
NOTE: Each user of Security Explorer will need to copy this file to the new v8 path under their profile, as shown below.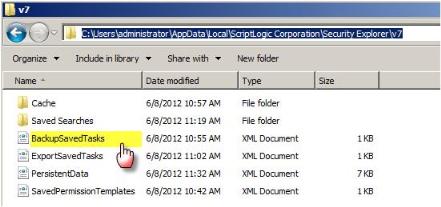 Figure 3 
Go to the version 8 locations under the user profile and rename the "BackupSavedTasks" file to any name, then copy and paste the "BackupSavedTasks" file from the version 7 path, into the version 8 path. (figure 4).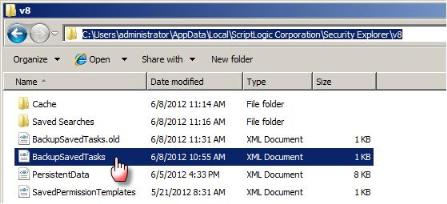 Figure 4 
Close and reopen the Security Explorer version 8 Backup Scheduler Task List and the backup task should now be visible, (figure 5).

Figure 5
If Security Explorer 8 is installed on the same machine as the previous version, the scheduled task in the Task Scheduler should continue to work and no further action is required. 

Figure 6
If SXP is installed on a different machine from the previous version then the Scheduled Backup Task should be exported from Task Scheduler of the previous machine and imported into the Task Scheduler of the new machine.
The "Start Action" of the scheduled backup task targets a file in a specific location that has to be migrated to the new machine, (figure 7).

Figure 7 
Create the "Start Action" path for the task on the old server on the new server. In this example it is:
"\\[SERVER]\ADMIN$\Security Explorer\70Testbackup6812\". Copy the "Config.ini" file into the new path, (figure 8).

Figure 8