Create a new Application Launcher element under User or Computer Management. Specify the batch file location in the "Filespec" or "File name including path". Select the "Run as Administrator" if the batch file cannot be run by a domain user. The "Run as administrator" option only applies to the batch file and not the contents running within.
Desktop Authority 7.x - 8.x: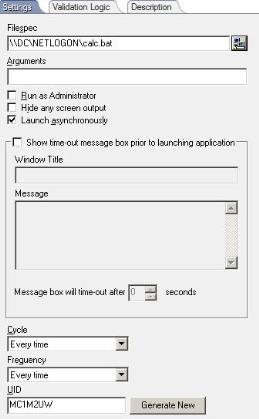 Desktop Authority 9.x: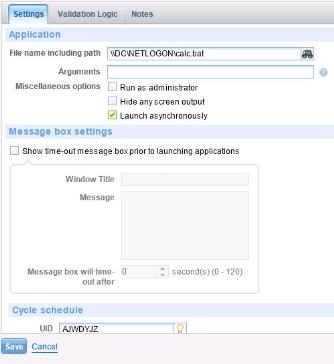 Select Launch asynchronously to allow the batch file to run and allow the script to complete. If this check box is cleared, the batch file will run and stop the script until the batch file has completed.
The Message options allow a message to be displayed before the Application Launcher runs the batch file. The Cycle option determines how often you want to run the batch file. Select the Validation Logic tab to set the validation rules for this element. Save and replicate.