Create an entry on the Application Launcher object to launch the NET.exe command with the necessary arguments to add your domain group to a local group of your workstations.
1. Open the Manager and navigate to the Application Launcher object.
2. Press Add to add a new entry.
3. Configure your entry with the following settings:
Filespec: NET.exe
Arguments: localgroup Administrators /add "domain\MISGroup"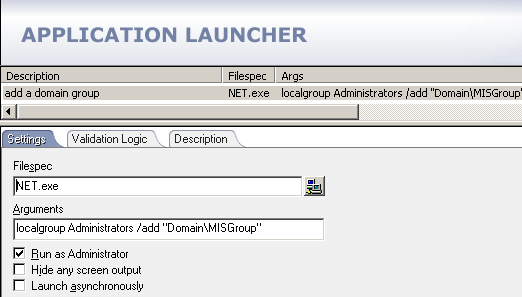 4. Since a normal user does not have access to make changes to local group membership on the workstation, be sure to check the box "Run as Administrator".
5. "Hide any screen output" may be selected so there is no command window flashed on the screen to the user during execution.
6. Configure the appropriate Validation Logic then Save & Replicate the changes.
Note: In order to utilize the "Run as Administrator" function, the domain admin account that is being used by the ScriptLogic service must already be a member of the local administrators group of the client machine.
Note: When deploying groups in different operating system languages, make the adjustment in the Arguments section that defines the group name in the language of the operating system that Desktop Authority client runs on.
For Example:
In English: adding localgroup Administrators /add "Your Domain Name\ Administrator Group"
In German: adding localgroup Administrators /add " Your Domain Name\ Administrator Gruppe"
In Spanish: adding localgroup Administrators /add " Your Domain Name\ Grupo de Administradores"
In French: adding localgroup Administrators /add " Your Domain Name\ Groupe d'Administrateurs"
In Italian: adding localgroup Administrators /add " Your Domain Name\ Gruppo di Amministratori"n