With SQL MANAGEMENT STUDIO Express (free Microsoft download), connect to the SQL instance that has the Desktop Authority databases (DAConfiruation and DAReporting). Check the security and verify that the Domain Admin credentials used for the Desktop Authority Administrative Service are listed under Security | Logins.
Verify that this account has "sysadmin" permissions and "db_owner" to the DAConfiguration and DAReporting databases.

TEST to see if you can access the DA Manager Console.

If you still cannot, on the Desktop Authority server, go to C:\ProgramData\Scriptlogic\Manager\DAconsole\smwinservice_errors.log file.
Identify if there are any errors related to login failure. (i.e.-)
Found an error stating:
2012/07/24 12:25:41. 946 FATAL [8] LogInstance : Error connection System.Data.SqlClient.SqlException: Login failed for user 'NT AUTHORITY\ANONYMOUS LOGON'. at System.Data.SqlClient.SqlInternalConnection.OnError (SqlException, Boolean breakConnection).....


Go into IIS Manager on the DA Manager Console Server, click on DesktopAuthorityConsole (underneath Default Web Site), and then go to "Basic Settings" action (usually on right column).

"Edit Application" will display. Click on "Connect as..." and then specify a Domain Admin account under "Specific user: ". Set credentials and password, and click "OK".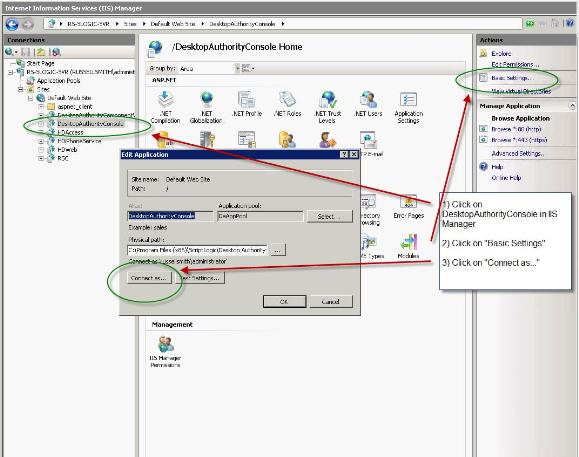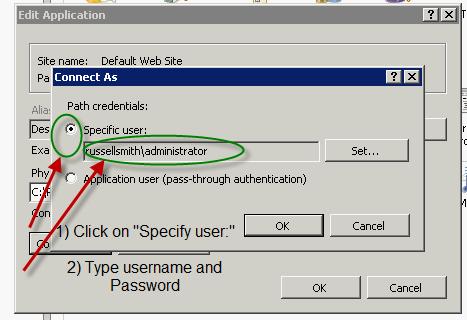 Attempt to reopen the DA Manager and you should be able to access the login page.
If you still cannot access the Desktop Authority Console contact Quest Software Support for assistance.
Additional Information
Critical error has occurred message displays when opening the Console
Desktop Authority 9.x - Upgrading from 7.81/8.x when using MSDE or SQL 2000
Desktop Authority 9.x - How to Install the Desktop Authority 9.x Manager Console