1. Login to the Remote Support Center console as a Domain Admin
2. From the menu, click on the Settings drop down and select "ExpertAssist Deployment Package".

3. Once the window opens, click on "Download".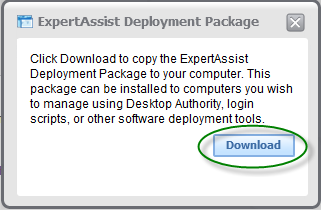 4. Save the package to a desired location and Copy/Paste the file to the folder: (i.e. \\DA_Server_Name\SLogic$\DesktopAuthority)

5. Next time a user runs the SLogic.bat script and validates the Remote Management Element, the ExpertAssist client should get installed.