The information in this article applies to:
Security Explorer Version 7.x and higher
HOW TO:
How to change the Service account for multiple services.  
If there are multiple services running under a specific account, and there's a need to change the account on all the services, follow the steps below.
In the example below all services running under the "AdminA' account need to be changed to the "Administrator" account.
Open Security Explorer and select the Service Security module. Select the "Search" tab, click on "Add Scope", and browse to the domain or computer where the service account is going to be changed. Change the "Select the field to search" to "Logon Account", keep the operator as "Is equal to" and browse to the account name. then click "Start Search", as shown below:

Highlight the services that the account needs to be changed on, then right click and select "Properties":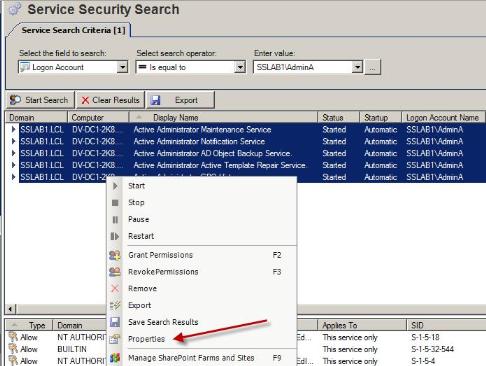 Select the "Log On" tab, check the option "Change Log On", browse to the new account, and enter the password. Make not of the WARNING. For the account change to take place the service needs to be restarted, so select "Restart service(s) after making changes" if the services can be restarted now. Click "OK":