1. Create a folder on a server at your remote location and share it with Read/Execute permissions to authenticated users.
2. Copy the contents from:  C:\Program Files (x86)\Dell\Desktop Authority\Desktop Authority Manager\DesktopAuthority over to the new share you have created at your remote location.  Be sure to select all files (and the subfolder) from that directory.
3. On the Settings tab of the Remote Management element, check the box for "Use alternate DesktopAuthority.exe location". Then browse to the path for your share that you created at the remote location to store the Remote Management client files that will be deployed to the workstations.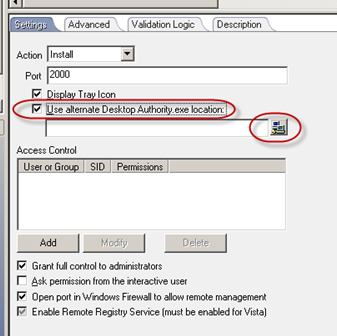 4. On the Validation Logic tab add validation for your workstations and/or users at the remote location.
5. After finishing the settings for the element Save & Replicate.
NOTE: The specified alternate location is not updated when newer versions of Desktop Authority are installed. It must manually be updated by copying the updated files from the SLDACLIENT$ share into the alternate location upon completion of the installation.