REGEDIT.exe is the registry editing application provided by Microsoft for viewing and editing keys in the registry.  REGEDIT can be launched by clicking on Start | Run, and typing REGEDIT [Enter].
1. Launch REGEDIT on a computer and highlight the proper registry key. 
2. Select Export from the File menu, which will export the highlighted registry key and all of its sub-keys.  The file will be saved with a .reg extension.  
3. Place the file into a shared folder on the network. 
4. Create a new element with the Application Launcher object in the (DA) Desktop Authority Manager console with the following settings:
Desktop Authority 8.x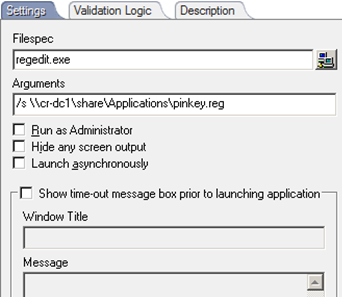 This will import the registry key(s) into the registry of any user or computer specified by the Validation Logic of the element.  It may be necessary to select the option to "Run as Administrator" because normal users may not have the ability to modify certain sections of the registry.
Note:  The "–s" (XP/2003) switch (silent) is used to suppress the prompt asking the user if they want to add the information to the registry.  "/s" (For Vista/Windows 7/Server 2008)
If it is not practical to use the Application Launcher object for whatever reason, there is a registry import utility that can be obtained from Support to import registry settings from a .reg file and create individual registry elements in a specified profile in the DA Manager console.