To get a better idea of what is happening during the portion of the logon process when Desktop Authority is running view the diagnostic log file named SLTrace.htm. This log file is enabled by default.
How to enable the SLTrace log file (or verify that it is enabled):
Open the Desktop Authority Manager console and go to:
(8.x) Global Options | User Management Options | Troubleshooting.
(9.x) Client Configuration | Global Options | User Management Options | Troubleshooting
Check the option for "Create detailed trace file…" and then put an asterisk (*) on the field right below the option. This will create a diagnostic log file for every user/computer that runs Desktop Authority's logon script.
Click "Save"
Click "Replicate Changes"
When Desktop Authority runs on a user's machine a log file is created: "%temp%\Desktop Authority\sltrace.htm"
If Desktop Authority's splash screen appears to hang, wait for the process to complete. If after waiting for a suitable amount of time and the progress bar does not appear to change (2-3 minutes), then the SLTrace.htm can be viewed before Desktop Authority finishes the logon process.
When reviewing the SLTrace file first verify that it is current and for the correct user. Verify the username, date and time located on the first line of the file.
To troubleshoot delays in the logon process first look over the TIMELINE COLUMN's time-stamps located on the left side of the SLTrace file.
The timeline will usually remain a blue/aqua color, but can change to orange (short delay) or red (delay over 5 seconds) if a process is taking longer.
Scroll through the document to find any delays, if the logon process hung and did not finish then go to the end of the document to identify the last process that was recorded.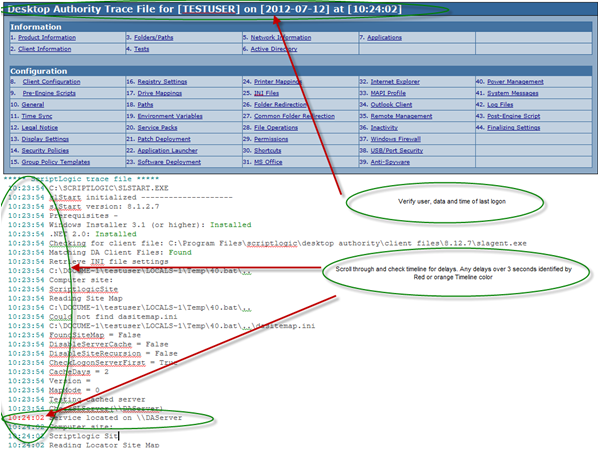 Use this process to identify any element or process where a delay occurs and then make any configuration changes needed to resolve the delay.
If there is an overall slowness or if random delays occur throughout the SLTrace file. Disable or uninstall the anti-virus program to test if the delays are resolved without anti-virus running. If the delays are resolved then add the required anti-virus exceptions.
Anti-Virus Exceptions (9.x)
Anti-Virus Exceptions (8.x)
If the cause for a delay can not be easily identified or resolved, Contact Technical Support for assistance.