At times it may be desirable to replicate a directory structure from one computer to another, but not include files that may reside within that structure.
First, specify the source and destination paths.
NOTE: It may be desirable to uncheck the box "Create Initial Source Folder Under Target Folder", especially when the source path is a drive root (i.e. \\server1\c$\)
Switch to Job Details View and go to the "Filter Files" tab:
Check the box "Exclude the Following Folders.
Leave the adjacent Folder Names window blank.
Check the box "Apply Filter to the Files".
Check the radio button "Include Files That Match These Filters".
In the Filters window, include an extension that is known NOT to exist within the selected source structure, for example, "XYZ", as shown below: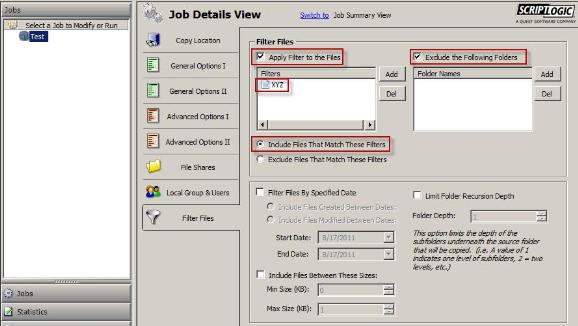 Save the job and run it.