ApexSQL for MSSQL and ApexSQL for MySQL subscription bundles have an offline grace period.

Since the subscription required a connection with the license server, the offline grace period provides our customers to work without a connection to the internet for periods of 7 days for MySQL products, and 30 days for MSSQL products.

When the offline grace period expires, the following dialog will appear when the tool is started: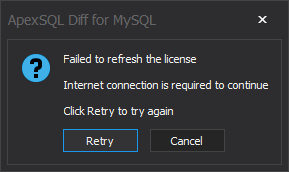 Establish a connection with the internet and click the Retry button.
The application will establish a connection with the License Server and the application can be used again.
For more information please refer to the 
ApexSQL for MSSQL and MySQL tools licensing and renewals
 article.