In short, apart from installing a CRD on SQL Server, ApexSQL Manage doesn't install additional software nor tamper with the SQL Server instance except when the user decides to manually run operations from the tool. The tool is mainly focused at the server level, e.g. SQL Server health, configuration, and security without diving deeper into the contents of databases and tables.
ApexSQL Manage comes in two parts, the GUI and the Agent which relays tasks from the GUI. As such a Central Repository Database (CRD) is required to be installed on the SQL Server itself. This installation is fully customizable in terms of letting the user decide on which SQL instance to install the CRD.
The purpose of this article is to dive deeper into ApexSQL Manage CRD and address the tables which are created with the database.
ApexSQL Manage repository database
The tool uses the Central Repository Database to store information exchanged between the user interface and the ApexSQL Manage Agent. Data stored in the database is used for scheduled or manual operations. Only one Central Repository Database is required for storing all information regardless of the number of added SQL instances.
Tables in the CRD are divided to store information specific to the operation they belong to:
dbo.agentSQLs – stores data from the ApexSQL Manage Agent
dbo.alertSQLs – stores information from the configured alerts
dbo.application_dataSQL – stores information of previously executed operations in the application
dbo.consoleSQLs – currently dbo.consoleSQLs doesn't store any information
dbo.emailconfigurationSQLs – stores email configuration
dbo.health_checkSQL – stores information of latest health check for all added SQL instances
dbo.job_infoSQL – stores information regarding created schedules and their operations
dbo.scheduleSQLs – currently, this table doesn't store any information
dbo.serverSQLs – stores general information of the added SQL instances e.g. databases and server roles (doesn't store data from the databases nor login credentials)
dbo.versionSQLs – stores data regarding the tool and CRD version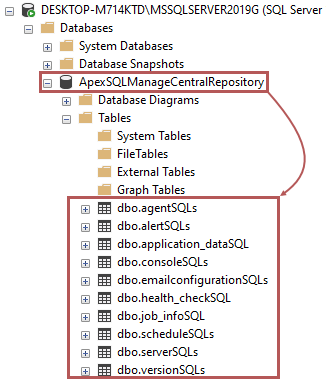 It is important to note that all information stored in ApexSQL Manage Central Repository Database is encrypted to prevent security issues.
For more information on ApexSQL Manage permissions and requirements please consult the ApexSQL Manage – Permissions and requirements article.