The workaround is to export the Settings key from an x64 machine that has the AA 6.x console installed. Then import the file on the new system where the issue exists. Please contact Quest Technical Support is assistance is needed with the steps below.
Step1:
Via the registry export the HKEY_LOCAL_MACHINE\SOFTWARE\Wow6432Node\ScriptLogic Corporation\Active Administrator\Settings key from a working x64 system.

Step 2:
Edit exported reg file: Remove the pink highlighted entries below (RISID, ServerRISOptIn, and ConsoleRISOptIn lines) from the file.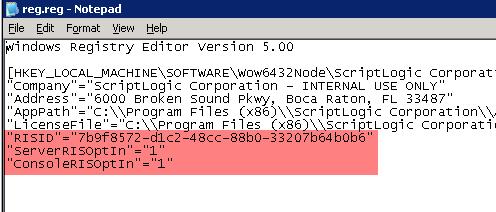 Step 3:
Edit the yellow highlighted areas below (Company, Address, AppPath and LicenseFile lines) to reflect the correct settings for your environment. Then import the reg file on the x64 bit machine where the issue is occurring.

NOTE: This information has to match the license file or evaluation license file, and the license file has to be present in the path for the LicenseFile value. It is recommended to export the Settings key from another working x64 bit system in your environment if possible.
Step 4:
Start the AA Console. It should now open without presenting license file dialog.
NOTE:
Quest does not provide support for problems that arise from improper modification of the registry. The Windows registry contains information critical to your computer and applications. Make sure you back up the registry before modifying it. For more information on the Windows Registry Editor and how to back up and restore it, refer to Microsoft Article ID 256986 "Description of the Microsoft Windows registry" at Microsoft Support.