Data Collection
Via Client Configuration | Profile | User, the Data Collection object is used to configure which User data is collected from the client computers connected to the environment to which Desktop Authority is installed.

Data is collected by Desktop Authority's Operations service and the ETLProcessor plugin. These two plugins are available in the Server Manager | Operations Service tab for configuration.
Data Collection Settings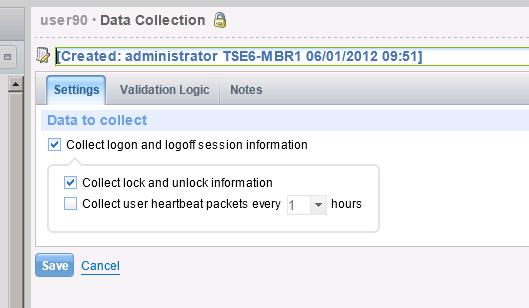 Data to collect
The User Management Data Collection Settings can be configured to collect data when a user session is started and completed (logon/logoff) as well as when a user session is locked and unlocked. If this option is not selected, Desktop Authority will not keep track of any user specific events.
Collect logon and logoff session information (requires Logon and Logoff timing)
Select this box to allow Desktop Authority to keep track of every logon and logoff event during the user session. Use of this option requires that Logon and Logoff Validation Logic Timing be selected.
Collect lock and unlock information
Select this box to allow Desktop Authority to keep track of every lock/unlock event during the user session.
Collect user heartbeat packets every xx hours
Select this box to specify how often the client computer will notify Desktop Authority about user event information. The default collection time period is every hour. This allows for more accurate reporting.
Timing
Select the Timing tab to configure when this element will be executed.
Data Collection Validation Logic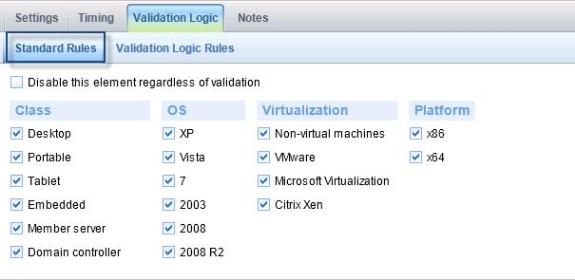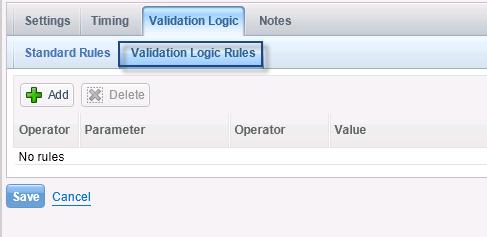 Select the Validation Logic tab to set the validation rules for this element.
Data Collection Notes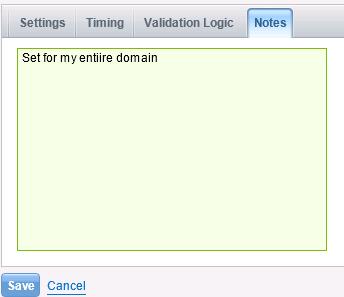 Select the Notes tab to create any additional notes needed to document the profile element.
Description
When adding or modifying a profile object element, the description appears above the settings tab. Enter a description to annotate the element. The default value for new profile elements can be changed by going to the system Preferences.