Navigate to Start | All Programs | ScriptLogic Corporation | Desktop Authority Manager | Desktop Authority Setup Tool.
Connect to and verify database connectivity:
Under the DB Configuration tab select the SQL Server Instance name.

Press Connect.

Click "Check properties" under the same tab and verify all sections pass and display a green check.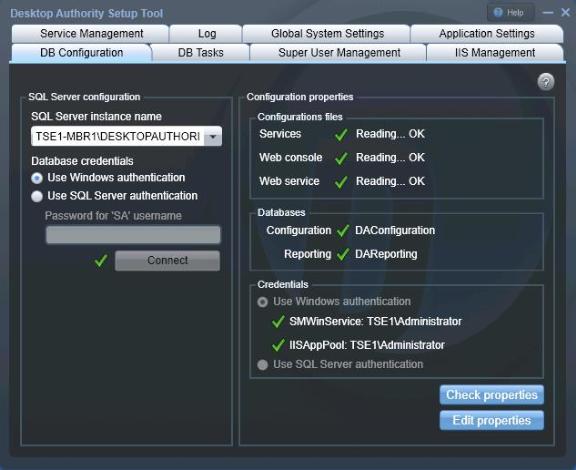 To backup databases:
Switch tabs to DB Tasks.

Under the Database name first select DAConfiguration.

Under the Backup Database section click the Browse button.

Choose the location of where the backup file will be placed (.bak).

Enter any descriptive information wanted under Name and Description.

Click Backup database.

Once finished repeat the backup database steps for the DAReporting database.
To restore databases:
Under the Restore database section of the DB Tasks tab select the database to be restored (DAConfiguration or DAReporting).

Click the Restore database button.

Locate the database backup file (.bak).