Step 1: Uninstalling the Agents
Via the Collection Agents tab, highlight all the Domain Controller(s) listed, and select the "Deactivate" button to stop the agents.
Next, right click all the DC's and select the option "Remove". Check all the DC's listed and click "Remove", as shown below: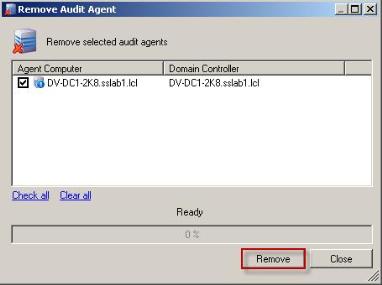 Step 2: Dropping the Database
Via Start | All Programs | ScriptLogic Corporation | Active Administrator 5 | Database Maintenance Wizard, a Database Wizard window will appear, Select "Next".
Select the Option to "Remove Database" and click "Next", as shown below: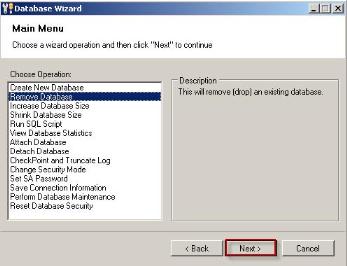 Select the appropriate SQL Server Instance and the Database Name (default is ActiveAdministrator). Choose either SQL or Window Authentication depending on the environment security, and click "Next":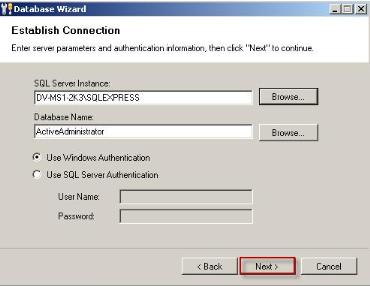 Click "Finish" to remove the database.
Verify that the *.MDF and *.LDF files corresponding to ActiveAdministrator or the Active Administrator database are removed. The default location is under %Program Files%\Microsoft SQL Server\MSSQL.1\MSSQL\Data.
Step 3: Delete the Default Security Groups and SQL Logins
When the database was created, two default security groups were created, AA_Admin and AA_User. By default these groups are local groups on the SQL server. If "Global" was selected when the database was created, these groups would reside in the Users container of Active Directory. Delete these two groups.
Also, under SQL Management Studio or the Express version, verify that the AA_Admin and AA_User groups no longer exist under Security | Logins.
Step 4: Removing the application, associated files, and Registry Keys
Stop the 5 Active Administrator services listed below:

Via the Control Panel, Add or Remove Programs (on 2008 servers go to Programs and Features):
Remove/Uninstall Active Administrator 5.x Server and Active Administrator 5.x Console as shown below:

**Note: This includes workstations that may also have the Active Administrator Console installed**
Delete the following directories on the machine where the Active Administrator Server Management console was installed:
%Program Files%\\ScriptLogic Corporation\Active Administrator 5

C:\Documents and Settings\All Users\Application Data\ScriptLogic Corporation\Active Administrator

C:\AA.ini

Delete the Active Administrator share. By default this is called "ActiveAdministratorData" located on the C: drive, unless another location was selected during installation.
Delete the following directory and file on each machine where the Agent(s) was installed:
**Note: If no other ScriptLogic products are on the machine, it is safe to delete the entire ScriptLogic Corporation directory as there will be nothing but the designated application contained within.**
On the Active Administrator server delete the Registry keys below.
Note: On 64 bit machines the registry keys will be under: HKEY_LOCAL_MACHINE\SOFTWARE\Wow6432Node…
HKEY_LOCAL_MACHINE\SOFTWARE\ScriptLogic Corporation\Active Administrator
HKEY_LOCAL_MACHINE\SOFTWARE\Small Wonders Software
HKEY_LOCAL_MACHINE\SYSTEM\CurrentControlSet\Services\AAMaintenanceService
HKEY_LOCAL_MACHINE\SYSTEM\CurrentControlSet\Services\AANotificationService
HKEY_LOCAL_MACHINE\SYSTEM\CurrentControlSet\Services\ADBkpSvc
HKEY_LOCAL_MACHINE\SYSTEM\CurrentControlSet\Services\SWATRepSvc
HKEY_LOCAL_MACHINE\SYSTEM\CurrentControlSet\Services\SWGPOSvc
On the Domain Controller(s) where the agent was installed, delete the Registry key below:
HKEY_LOCAL_MACHINE\SOFTWARE\ScriptLogic Corporation\Active Administrator Agent
Step 5: Reboot of the Active Administrator server is recommended, but not required.